Oil and Gas Commonly Asked Questions: Oklahoma Geological Survey
(Click question for answer)
2) Evaluating mineral potential 
4) Who owns the mineral rights? 
5) Names of formations producing oil and gas 
8) How much oil or gas from this well? 
9) Exploration and future potential 
10) How much oil and gas produced and left in Oklahoma? 
11) Wouldn't more exploration fill need for petroleum? 
12) Why is there no seismic work in NE Oklahoma? 
13) Why do production tools stick?
1) Do I have oil or gas on my property?
You probably do have oil or gas beneath your property, but most likely not enough to justify the cost of drilling and completing a well.
In Oklahoma, there is a good chance that your property is underlain by oil and/or gas, as only a few counties have no known hydrocarbon resources. The real question is, "Can my oil and gas be produced economically?" Another question is whether you really own the mineral rights to your land, and this is something best answered by an attorney. See question 4.
Because most of Oklahoma has been thoroughly explored, the first step in determining whether economically producible petroleum is present is to find out whether nearby wells, if any, are productive. Active wells can generally be identified by the presence of pump-jacks (oil wells) or "Christmas trees" (gas). Published maps, such as O.G.S. map GM-28 "Map of Oklahoma Oil and Gas Fields with Field Supplements," shows the location of hydrocarbon-producing areas through 1985. Updates and expansions of the data shown in GM-28 will be available in late 2002 from GM's -36, -37 and -38.
Some commercial firms have maps showing the locations of oil and gas wells in Oklahoma. Geo Information Systems Natural Resource Information System (NRIS), Herndon Map Service, IHS Energy Group, and PennWell Corp. are among the more widely known. See Appendix.
Another way to learn about producing oil and gas wells in Oklahoma is to examine scout tickets. These 4- x 6-inch index cards contain much of the same information present in the NRIS database. Scout tickets for all of Oklahoma may be examined free at the Laurence S. Youngblood Energy Library on the University of Oklahoma campus. They may also be examined at the Oklahoma City Geological Society Library in Oklahoma City and at the Oklahoma Well Log Library in Tulsa. See Appendix.
Even if producing wells are, or once were, located nearby, the only way to determine whether oil or gas is present on your property is to drill. However, before a company will commit money to drilling a well, there are many exploration, land, geological, and engineering hurdles that must be overcome. While it is possible that oil and/or gas will be found where none was previously known, significant discoveries in the State are now quite rare.
2) I think that I may have some valuable minerals/oil/gas on my land. How can I evaluate its mineral potential?
Detailed mineral/oil/gas evaluation requires a great deal of work and ultimately the services of an expert geologist. However, even after completion of such an evaluation only the drill bit can definitively determine what is present. The evaluation of mineral or petroleum potential is an interpretation based on the data available. Where this data is abundant far more confidence can be put into the interpretation than where it is sparse. It should be remembered that even where a lot of drilling has taken place in the past, there could sometimes be deeper potential.
Independent consulting geologists perform mineral/petroleum evaluations. Names of consulting geologists are listed in the yellow pages of the telephone directory under "Geologists." The Ardmore, Oklahoma City, and Tulsa Geological Societies (see Appendix) are professional organizations that have the resumes, special qualifications, and areas of geographic expertise of many consulting geologists.
3) A company wants to lease the mineral rights to my land. How much should I lease it for?
Lease rates are based on several factors, including past production, current activity, and trade secrets.
The value of mineral rights for petroleum is related to nearby drilling and/or production, or the exploration potential of an area. For example, if there are no productive wells near your land or no wells are currently being drilled, your mineral rights may not be worth much, perhaps a few dollars per acre. However, if the company you're dealing with has been exploring in the area and believes petroleum is present; these rights may be worth much more. Of course, the oil company will attempt to keep their ideas secret and lease as much land for as low a price as possible. In areas close to active drilling or significant production, the value of a lease may be $200-$400 per acre, or more.
Getting a fair price for a lease may involve talking with neighbors-how much are they asking or getting? If much land is involved, development drilling is active, or the exploration potential is high, you may want to hire a petroleum landman. A list of landmen (women) is in the yellow pages of the telephone directory under "Oil Land Leases." Information about individual petroleum landmen may be obtained from the Oklahoma City or Tulsa Association of Petroleum Landmen. See Appendix.
4) Who owns the mineral rights to my property?
Records of surface and mineral ownership rights are maintained at county courthouses and are open to the public. You can examine these records by contacting the county clerk. Complex mineral rights should be determined by a petroleum landman.
Professional petroleum landmen are experienced in determining mineral and surface rights. If your property is large or has a complex history of ownership, there may be a long and complicated "paper trail" associated with the land. In this case, you may want to hire a petroleum landman (see question 3).
5) What are the names of the formations that produce oil/gas near where I live?
Many geological formations in Oklahoma produce oil and gas. Most have names; in some cases, several. In Oklahoma there are about 7500 productive formation names, but only about 300 have 10 or more completions attributed to them. Stratigraphic charts and completion reports show productive formations.
In some parts of Oklahoma, only one formation is productive; in other parts, many stacked formations may produce oil or gas. Stratigraphic nomenclature in Oklahoma is complicated for several reasons. (1) In some cases, several names have been used for the same formation; in other cases, the same name has been applied to different formations. (2) Some companies apply their own terminology to the formations they encounter in their wells, ignoring generally accepted names. (3) A formation exposed on the surface may have a name that is entirely different from the name for the same formation in the subsurface. (4) A formation name may become obsolete and be abandoned. (5) Geologists may disagree about how to define a formation and/or what to call it.
The best initial reference for determining the name of a producing formation is a stratigraphic chart showing the subsurface formation names for different parts of Oklahoma. You can obtain these from the O.G.S. or from the Ardmore, Oklahoma City, or Tulsa Geological Societies (see Appendix). The NRIS database and scout tickets (see question 1) also list productive formations, but the formation names listed are those reported by the operators, which may be inaccurate, misleading, or obsolete.
6) I've seen some drilling rigs operating near my land. What company is doing the drilling and why?
Industry newsletters report current drilling activity in Oklahoma.
Active drilling is reported in industry newsletters such as PI/Dwights Plus Drilling Wire, which is published daily, weekly, and monthly by IHS Energy Group (see Appendix). Drilling Wire lists all petroleum wells that have been formally proposed, are currently drilling, or are awaiting completion. The drilling reports locate wells by county and by the section, township, and range. The reports typically include company, well name, location, spud date, expected productive zone and depth, planned depth of well, and kind of well (exploration, development, water injection, etc.). After the well has been drilled, logged, and completed, the report may include information such as total depth, log tops, and initial production.
PI/Dwights Plus Drilling Wire may be found at some public and university libraries. The Oklahoma Marginal Wells Commission (see Appendix) has current and back issues available for examination at its office.
7) Can you tell me the production potential of a particular zone in this well log?
Possibly. Well-log interpretation is a highly specialized field and typically requires experience in the geographic area and prospective formation in the well.
Well-log interpretation, also known as formation evaluation, is extremely important in the petroleum industry. Incorrect interpretation can result in the abandonment of potentially successful wells or the expensive completion of a well with little potential for commercial production.
Well-log interpretation requires extensive training and years of experience. In many cases the techniques or "tricks" used to evaluate wells in one area or of one formation cannot be used in another area or with a different formation. One technique used by formation-evaluation specialists is to compare the logs of a new well with those of nearby wells that have known production histories. Resistivity and porosity logs are essential for proper interpretation, and many other specialized logs are also helpful ( See Figure 1). Computers with sophisticated software are the tools increasingly being used.
All major petroleum companies have formation-evaluation specialists on their staffs. Smaller companies and individuals may hire consulting geologists (see question 2) as needed. In some cases petroleum geologists at the O.G.S. can provide a cursory interpretation of well logs in order to qualitatively estimate the potential for production from a particular zone in a well.
8) How much oil or gas has this particular well produced?
In Oklahoma, production is reported by lease, and a single lease may have many wells. Therefore, figures for an individual well may not be available, but they can be estimated. Oil and gas producers report petroleum production to the Oklahoma Tax Commission (see Appendix) by lease, and a lease may have one well or many. Production on single-well leases is straightforward. For multiple-well leases, a formation-evaluation specialist may be able to estimate production from individual wells, but usually that assignment is just an educated guess.
Oil and gas production figures may be obtained from the Oklahoma Tax Commission, Geo Information Systems –IHS Energy Group, PennEnergy and some consulting geologists (see Appendix). Another source is the NRIS database, which can be accessed at <http://www.geo.ou.edu>. The NRIS database includes monthly lease and field production from 1979 to the present, using figures reported to the Oklahoma Tax Commission. See Sources of Oklahoma Oil and Gas Data.
9) Has anyone ever explored for oil and gas in my area? What is the possibility of future production here?
Drilled wells and seismic lines are evidence for exploration. The potential for future production is dependent on technical evaluation and the price of petroleum.
The best way to determine whether there has been any exploration in your area is to determine whether any wells have been drilled. A number of organizations have maps showing the locations of all the oil and gas wells in Oklahoma; they are described in Sources of Oklahoma Oil and Gas Data and in question 1. In some cases, seismic exploration may have been done in an area but was not followed up with a well. Numerous private brokers of seismic data have maps showing where seismic lines have been run. The seismic data are extremely expensive, but maps of the lines are not. However, no broker knows the locations of all the seismic lines, and those run for major oil and gas companies are proprietary and neither the data nor the locations of the lines are available.
Only trained geologists and/or geophysicists can determine the potential for future production. After examining enormous amounts of data, they may recommend drilling a well to test the area. Whether the well can produce oil or gas in economic quantities depends on a number of factors, not the least of which is the market price of oil or gas. Wells with lower production rates become prospective if the price of oil and gas is high.
10) How much oil and gas has been produced in Oklahoma, and how much is left?
From 1901 through mid-2002 a staggering 14.5 billion barrels of oil and condensate (natural gas liquids) and 90 trillion cubic feet (TCF) of natural gas were produced and sold in Oklahoma. See Figures 2 and 3 .
The natural follow-up question is: "How much is left?". To answer this one must not only know the ultimate volume of oil and gas that will be produced in the State, but because reserves must be economically produced, it also assumes an accurate forecast of long-term prices. To quote the Energy Information Administration (E.I.A) of the U.S. Department of Energy: remaining reserves are "the estimated quantities which the analysis of geological and engineering data demonstrate with reasonable certainty to be recoverable in future years from known reservoirs under existing economic and operating conditions". In this context economic conditions are synonymous with oil and gas price. As prices rise, so do reserves. In their last estimate at the beginning of 2000, the E.I.A. projected Oklahoma's proved oil reserves at 610 million barrels (MMBO). Oklahoma natural gas reserves in E.I.A.'s last estimate on 1/1/2001 were about 14 trillion cubic feet (TCF). Both estimates were based on a simple poll of the State's thousands of oil and gas operators.
The state currently ranks fifth nationally in crude oil production and accounts for 3% of national production. This represents about one quarter of the peak rate that was reached in 1927, and is roughly equal to that seen in 1913. At $25 per barrel, this oil still has an annual value to the state of more than 1.7 billion dollars. Oklahoma consumes 50% more oil than it produces.
Oklahoma's 2001 natural gas production of about 1.6 trillion cubic feet represents about 8% of total U.S. production and makes the State the third largest gas producer in the country. Statewide gas production is about three times consumption. The State's current annual gas production is only about two thirds of the peak rate that was reached in 1990. However, because the gas price in 2001 was over two and a half times higher than that seen in 1990, its overall value of about 6.5 billion dollars is nearly double the value of 1990's production.
11) If oil companies spent more on exploration, couldn't Oklahoma supply all the oil needed in the U.S.?
No. U.S. demand far exceeds Oklahoma's supply. In fact, Oklahoma cannot even meet its own oil demand. See question 10. In 2002 U.S. demand for petroleum is about 20 million barrels per day. Oklahoma's production is about 183,000 barrels per day, which is les than 1% of U.S consumption. Even in the State's peak year of oil production, 1927, when Oklahoma was the largest oil producing entity in the world, we could have met less than 4% of current U.S. demand.
Most of the petroleum in Oklahoma that can be easily produced has been produced. Because exploration has taken place for over 100 years and about 480,000 wells have been drilled throughout the State the prospect of making any large oil discoveries is remote. For this reason the remaining undiscovered reservoirs will very likely be small and unprofitable for large multinational companies that have high overhead costs. However, smaller companies with expertise in local petroleum geology can still make money producing Oklahoma's undiscovered or partially drained oil fields.
Long-term improvement in Oklahoma's oil production decline must come as a result of improved recoveries in the fields that have been found already. The oil produced is always a fraction of what is present in a reservoir, and the oil that remains in Oklahoma's mapped reservoirs cannot be less than 42 billion barrels, and is likely to be much more. The oil that has been "left behind" will not be easy to recover, and will not be produced cheaply. However, the higher oil prices that must inevitably come as the world's productive capacity peaks will insure that Oklahoma will remain an important oil producer well into the 21st century.
12) Why is seismic exploration rare in northeastern Oklahoma?
Seismic exploration is expensive, and the reservoirs in northeastern Oklahoma are shallow and their production potential small.
No petroleum is being produced in Cherokee, Delaware, and Adair Counties, and very little in Craig, Mayes, and Ottawa Counties (from Oklahoma Corporation Commission report titled "2001 Report on Oil and Natural Gas Activity within the State of Oklahoma," by Larry Claxton). The primary reason for this is that any potential petroleum reservoirs in northeastern Oklahoma are near the surface and any oil or gas that once may have been present probably has leaked out. Therefore, the likelihood of discovering any oil or gas in this part of the State is very low.
Numerous small oil and gas fields are present west and southwest of these counties, with most of their reservoirs located at shallow depths and producing for many years. New wells in the area are typically drilled near existing wells and are designed to more efficiently produce an already partially drained reservoir. The best northeastern Oklahoma wells typically begin producing at a few tens of barrels per day and quickly decline to one to five barrels per day. Such low volumes do not justify expensive seismic exploration.
13) What causes tools (pump rods, etc.) to stick in my well, and often in two or three nearby wells at about the same time?
Slow movement along undetected faults can damage a wellbore.
Oilfield equipment can fail for a number of reasons, the majority of these purely mechanical. In some cases, rods in several close wells can stick at the same time for different reasons. However, sometimes there may be a geological explanation, namely "slow earthquakes." These are movements along faults that are too gradual to produce seismic waves. Seismographs can identify neither the faults nor their motion, so they remain undetected until they damage tools or well casing.
Figure 1 (question 7). Example of a modern petroleum well log. (Modified from Serra, 1985.)
Figure 2. Oklahoma crude oil production, including condensate.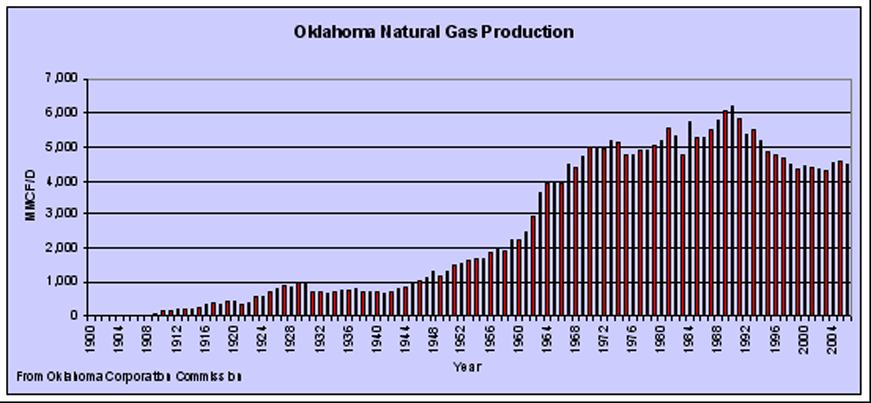 Figure 3. Oklahoma natural gas production.
APPENDIX: (ORGANIZATIONS AND ADDRESSES)
Oklahoma Corporation Commission P.O. Box 52000-2000 Oklahoma City, OK 73152-2000 (405) 521-2211 http://www.occ.state.ok.us/
Oklahoma Geological Survey Main Office 100 E. Boyd St., Room N-131 Norman, OK 73019-0628 (405) 325-3031 http://www.ogs.ou.edu/
Oklahoma Geological Survey Core and Sample Library 2725 S. Jenkins Norman, OK 73019 (405) 325-4386
Oklahoma Marginal Wells Commission 1218-B W. Rock Creek Rd. Norman, OK 73069 (405) 366-8688 http://www.state.ok.us/~marginal/
Ardmore Geological Society Box 1552 Ardmore, OK 73402
Oklahoma City Association of Petroleum Landmen 3035 N.W. 63rd St., Suite 209 Oklahoma City, OK 73116 (405) 840-4111 E-mail: ocapl@flash.net
Oklahoma City Geological Society 227 W. Park Ave. Oklahoma City, OK 73102 (405) 236-8086 http://www.ocgs.org
Oklahoma City Geological Society Library 227 W. Park Ave. Oklahoma City, OK 73102 (405) 235-3648, ext. 11 http://www.ocgs.org/library.asp
Oklahoma Well Log Library 427 S. Boston Ave., Suite 1100 Tulsa, OK 74103-4116 (918) 582-6188
Tulsa Association of Petroleum Landmen P.O. Box 1342 Tulsa, OK 74101
Tulsa Geological Society P.O. Box 4508 Tulsa, OK 74159-0508 (918) 582-4762 http://tulsageology.org/
Geo Information Systems 1818 W. Lindsey St., Suite A105 Norman, OK 73069-4160 (405) 325-3131 http://www.geo.ou.edu/
Herndon Map Service 3816 N. Maney St. Oklahoma City, OK 73112-2929 (405) 946-5858
IHS Energy Group Petroleum Information/Dwights Plus Drilling Wire 15 Inverness Way East Englewood, CO 80112-5776 http://www.ihsenergy.com/
Laurence S. Youngblood Energy Library Sarkeys Energy Center University of Oklahoma 100 E. Boyd St., Room R-220 Norman, OK 73019 (405) 325-6451 http://libraries.ou.edu/depts/geol/index.html  Click: OU libraries >> Online catalog >> Public catalog
PennEnergy Data 909 South Meridian, Ste 375 Oklahoma City, OK 73108 866-947-7488 http://www.pennenergydata.com
All info was sited from: http://www.ogs.ou.edu/oilgasfaq.php