ANDERSON COUNTY
Since 2011, 50 permits have been filed in Anderson County. Of this number, 48 have been approved. Pending approval are the permits filed by Chestnut Exploration and Production, Inc. and Jamex, Inc. in February 14, 2013 and November 6, 2013, respectively. The county gave out the highest number of approved permits in its history in 1992, amounting to more than 120 permits. So far, this year shows the record low in the history of permits approved in Anderson County at 4.
In recent years, the JLA Resources Company has filed the most number of permits in the county. All 9 permits it filed have gotten approved. In fact, it was the company that filed the most recent permit in Anderson on February 28, 2014. The permit received approval last March 13, 2014.
Second to the JLA Resources Company in permit filing is the Mueller Exploration, Inc. Since 2012, it has filed and gotten approval for 5 permits in total. The most recent was in March 26, 2013. Other companies that have filed permits in the county include Chestnut Exploration and Production, Inc., EOG Resources, Inc., Jamex, Inc., Benchmark Oil & Gas Company, and O'Benco Inc., among others.
The wells that have been most popular in recent years include Temple Inland, Tomahawk Humble B, and Herrighton 1.
ANGELINA COUNTY
In 1997, Angelina County enjoyed its most prosperous year as is produced more than 215,875 barrels. However, drilling in the county saw its peak only in early 2008 with more than 75 approved permits. However, the number of permits has been on a downward slump since 2009, noticeably after the 2008 Financial Market Crash. Now in 2014, only two permits have been filed, with only one approved. Both permits were filed by KNT Enterprises, LLC in March of 20014.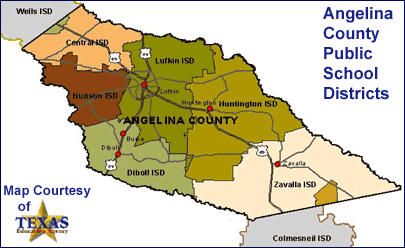 Since 2009, the company with the most number of permits filed in the county is Encana Oil & Gas (USA), Inc. It filed 17 permits within a span of one year: 2009. However, after it has since been noticeably absent in the permit filing game in Angelina County.
Companies that have emerged to file permits in the county since 2012 are KNT Enterprises, LLC; Goodrich Petroleum Company, and Devon Energy Production Co., LLP. In recent years, the Roan Thomson and DF Thomson wells have experienced the most activity.
At present, there are 144 known operators in Angelina County. Top leases include:
Aclco Hay Gu Gas
Lease #267038
Carte Bros. Gas Unit No. 5 Gas
Lease #102341
Davis Heirs Gas
Lease #237500
Hospital Gas Unit Gas
Lease #262228, and
Ryan, EM Unit
Has Leases #246316, #229467, and #236761.
ARCHER COUNTY
Archer County saw the boom in its approval of oil permits in 1990. During this time, more than 240 permits were approved. Now, permits have been approved increasingly with more than 50  approvals this year alone.
However, the county still has a long way to go if it hopes to reach the approval highs in the last few years. In 2008, 2009, and 2011, a little under 200 permits were approved. This year's performance, though, has already managed to eclipse the county's worst year, 2004, where not even 40 permits were approved. At present, eight permits are awaiting approval: three permits filed by Banner Oil & Gas LLC in March 19, 2014, a permit filed by Palmer, John LLC in March 28, 2014, a permit filed by Palmer, Mike Oil on the same day, a permit filed by Elephant Oil & Gas, LLC in March 31, 2014, a permit filed by Texas Energy Operations, LC on the same day, and a permit filed by Glen D. Gonzenbach, LLC in April 1, 2014.
In 2014, two companies have filed the most number of permits: EOI Eagle Operating, Inc. and Texas Energy Operations, LC. These two are closely followed by Palmer, Mike Oil and Veitenheimer Oil Co., among others.