Brazos Large Block Offshore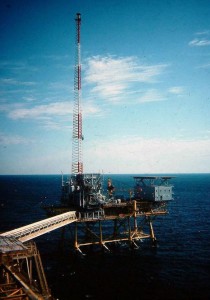 The Brazos Large Block Offshore is an offshore drilling site in Texas. It has had a high of morethan 15 permits filed in 1991 and a low of 0 in recent years. Its last permit application and approval was in August 17, 2011 when Anatexas Offshore, Inc. received an approval for its permit.
Among those who filed the most number of permits were Anatexas Offshore, Inc., Capco Operating Corporation, EL Paso Production Oil & Gas Co., Black Elk Energy Offshore Op LLC, and Chroma Operating, Inc. The offshore drilling site has had a total of 98 operators in its set up. The top lease in the drilling site is the State Tract405-LN/2 Se/4 Gas Lease #224098. So far, it has not been able to produce a single barrel of oil in the last decade.
---
Bee County
Bee County saw its highest number of permits approved in the years 2000 and 2009. In both years over 125 permits were approved. However, now in 2014, the county is seeing a slump in the number of permits approved as the number has yet to reach 25.
Currently, seven permits are awaiting approval. The Enco Exploration Company filed three of these permits. One was filed in March 26, 2014 and two were filed in April 3, 2014. SV Energy Company, LLL filed a permit in April 1, 2014. Cimarron Engineering Corp. also filed for a permit in March 31, 2014. The Sydson Energy, Inc. filed two permits in March 27, 2013. The Welder Exploration & Prod., Inc. and the Enco Exploration Company have filed the most number of permits since 2013 with 9 permits.
Bee County is also home to some 1016 operators. Its top leases include Alvarado 01 Gas Lease #268861, Arc-Thomson-Barrow Oil Lease #010695, Boswell 02 Gas Lease #269573, Brown H Oil Lease #010328, and Curlee, D.M. –A- Oil Lease #004647.
Over the years, Bee County has been producing a consistent amount of oil barrels. The lowest production is the current year as it has barely produced 184,390 barrels. It saw its peak in 1999 when it produced more than 460,975 oil barrels for that year alone.
---
Caldwell County
Caldwell County reached its peak in permit approvals in 1992 when over 100 permits were approved in the area. In the early 2000s however, little to almost no permits were approved. It only began to recover in the late 2000s when it reached a peak of some 80 approvals in 2012. Sadly, it has resumed its downward slide after that. This year, only 8 permits have been submitted and thankfully, all were approved. Most of the permits in the county were filed by North South Oil, LLC and Eagle Energy Acquisitions LP.
Oil production by barrel in Caldwell County reached its peak also in the year 2012 when the county produced over 1,480,625 barrels of oil. In contrast, this year is proving to be dismal as only 296,125 barrels have been produced three quarters of the way into the year already.
Caldwell County has recorded 773 operators that have come into its territory since 1993. Among the top leases in the county include Cora Malone Oil Lease #015469, Davis B – Wilson Oil Lease #015350, Dorset-Tiller Gas Lease #082179, Floyd Tiller Oil Lease #015430, and Hinds, Addie Oil Lease #016192.
---
Callahan County
In its early years in the 1990s, Callahan County approved more than 100 permits. That number dwindled in the following years until it has reached a record low this year. Out of the 20 permits filed in 2014, only 16 have been approved. Among those that are still waiting approval are permits filed by Enterprise Products Operating LLC, RG1 Energy, LLC, Ryholland Fielder, Inc, J& W Oil Co. – W.F. and Merkaz Drilling, LLC. The most popular well is the SM Davis.
Callahan County has also experienced a steadily decline oil barrel production since 1993. It hit its record high in 1993 with a production of 623,375 barrels and is now at its lowest point with less than 124,675 barrels produced. It has also had 1,405 operators come into its territory since the early 1990s. At present, the top leases are Ackers "80" Oil Lease #029919, Barnard Oil Lease #021928, Booth Oil Lease #030942, Dyer "2988" Gas Lease #097136, and Earp Gas Lease #105616.